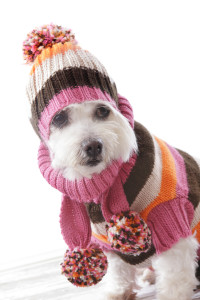 The temperatures are forecast to get into the single digits in the Gainesville, Oakwood, and Hall County areas tonight, so you need to take special precautions for your pets.
We rarely get temperatures as low as we will see tonight. The best advice is to bring all dogs and cats inside. Even if they are acclimated to being outside, they are not used to this type of extreme cold.
For pets that must be outside, make sure they have an insulated house which is protected from the wind and rain. It must be comfortable but just big enough to get in and move around but not too large so that it does not hold in the pet's body heat. Some type of clean, dry bedding material will help hold in heat.
Walking outside during extreme cold requires more precautions for indoor dogs. Particularly for short haired dogs, consider getting them a sweater or coat for wearing when they walk outside.  If dogs are walked outside in snow or ice, wipe off their legs, feet and stomach when they come back in. If they are walking on the road, they can pick up salt or chemicals from the water and then ingest these while licking their paws.
Be sure to check water supplies for pets outside.  Water bowls will freeze quickly and stay frozen awhile in this extreme cold. Also, consider using a plastic bowl; when temperatures are low your pet's tongue can stick to a metal bowl.
Remember that puppies and kittens, as well as older pets, may have more trouble maintaining their body temperatures when outside in extreme cold.  Also, older pets with arthritis should be limited in their exposure to very cold temperatures. If they are shivering or wanting to stop walking, they are uncomfortable and should be taken inside.
Any pet spending much time outside in this weather will need more food than normal. They burn this food supply to stay warm.
And remember, if your car is parked outside, to bang on the hood before cranking up in the morning. Your neighbor's cat could have crawled up inside the engine to keep warm.