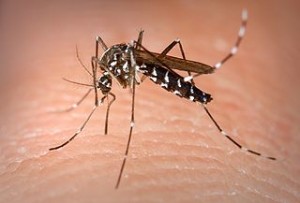 Spring time: beautiful flowers, warm weather, outdoor festivals and, unfortunately, mosquitoes.
For Gainesville, Oakwood, Flowery Branch and surrounding areas in Georgia, mosquitoes mean the threat of heartworm disease for our pets.  Mosquitoes are the mechanism by which heartworms are transmitted from one pet to another. In fact, the heartworm has to go through a mosquito to mature.  So our pets never have to be around another dog or cat in order to come down with heartworms!
There is a drug that can be used to treat adult heartworms infections in dogs, but the drug treatment is costly and there are significant potential side-effects. This same treatment cannot be used at all in cats. The goal is to never let our pets become infected with heartworms. This is done by giving a monthly preventative drug.
These monthly preventative drugs are available for dogs and cats. There are several available, and all work extremely well if given at the right time and  in the correct dosage. Many of the differences in these products have to do with what other parasites are controlled other than heartworms.
And, yes, we do recommend heartworm preventative for cats. Even though heartworm disease does not occur as frequently in cats as it does in dogs, it is a much worse disease when it does infect a cat. There is no drug available to kill the adult heartworm in a cat.
At Family Pet Clinic, we do not attempt to carry every drug available. So this blog only covers the products we have available.  All of these products are to be given once a month; all year long.
For Dogs:
Trifexis is our "go to" product for dogs.  It is a combination of two drugs: spinosad + milbemycin oxime. Spinosad is a once a month product to kill fleas on dogs, and milbemycin prevents heartworms and also in adult dogs in our area. At this time, the company is offering a $10 rebate on 6 month supply; a $25 rebate on a 12 month supply and with both, the company sends an $8 check later that can be used for the next purchase of Trifexis.
As an added incentive to get 12 months of medication, Family Pet Clinic is now offering a free Occult Heartworm Test with a 12 month supply of Trifexis.
Heartgard Plus is another combination product containing ivermectin and pyrantel. It prevents heartworms, hookworms and roundworms. There is nothing for flea control or whipworm control in this product, but it is very palatable. Over 90 % of dogs will pick up the chewable and eat it like a treat.  It is also less expensive than Trifexis, but you will have to use another product for flea control.  Right now Heartgard is offering a $12 rebate on a 12 month supply.
Iverhart Plus contains the same drugs as Heartgard, but is not in a form that dogs will eat like a treat. It generally costs about 20% less than Heartgard. Right now  there is a $3 rebate on Iverhart.
Sentinel is a product which has been off the market for a while, but is now coming back. It contains milbemycin to prevent heartworms and lufenuron, which is a product which prevents fleas from being able to reproduce.  So it is active against heartworms, roundworms, hookworms, whipworms and fleas.
Revolution contains the drug selamectin. In dogs it prevents heartworms, kills adult fleas, treats ear mites and sarcoptic mange and controls the American dog tick.  Right now, the company is offering a special pricing in which a 12 month supply is 25% off.
It has the advantage in dogs and cats of being a "spot-on" , which means you don't have to entice the pet to eat something.
For cats:
Revolution is our "go-to" product for cats. In cats, Revolution will kill adult fleas, prevent heartworm disease, treat and control ear mites and treat and control roundworms and hookworms.  And since it is a "spot-on" product, the cat does not have to be given an oral medication. This is a big plus for most of our feline friends, who can be very difficult to get to take medicines by mouth. As with the dog product, right now, the company is offering a 12 month supply that is 25% less than buying two 6 month packages.
As an added benefit, several of the drug makers have a monthly reminder program where you will be sent a monthly email or text message when the next dose of medicine is due. The links below will take you to a sign-up site.
Trifexis:  https://www.myregistrationc.com/ElancoPets/Account/Register/6341
Heartgard: http://www.heartgard.com/Pages/hlp_reminder.aspx
Revolution for cats: https://www.revolution4cats.com/signup.aspx
Revolution for dogs: https://www.revolution4dogs.com/applymembership.aspx
Product
Contains
How given
effective against (in addition to heartworms)
Rebate

or

Specials

Trifexis
mylbemycin & spinosad
oral tablet
Fleas Roundworms Hookworms Whipworms
rebate $10 on 6 months and $25 on 12 months
Heartgard
 Preventative Product
Chewable with beef
Roundworms

Hookworms

Rebate $12 on 12 month supply
Iverhart Plus
Ivermectin & pyrantel
Chewable tablet
Roundworms

Hookworms

Rebate $3
Sentinel
Mylbemycin & lufenuron

Chewable table
Keeps fleas from reproducing;

Roundworms

Hookworms

Whipworms

Rebate $10
Revolution

For dogs

Selamectin
Spot on product; goes on skin
Fleas; ear mites; American dog tick;

Sarcoptic mange

12 month supply is 25% less than buying  2 six month boxes
Revolution for

Cats

Selamectin
Spot on  product;

Goes on skin

Fleas;  ear mites; roundworms; hookworms
12 month supply is 25% less than buying 2 six month boxes